Kingston | 32GB – Micro SD Card
Kingston | 32GB – Micro SD Card
More Information
Extra Value
XC1 Class 10
Model
SDC10G2/32GBSP
Capacity
32 GB
Other Detail

Performance: 45MB/s read, Class 10, UHS-I: 10MB/s minimum data transfer

Storage temperature: -40°C to 85°C

Operating Temperature: -25°C to 85°C

Dimensions
11 x 15 x 1 mm
Manufacturer Link
Additional Information
Weight
90.71 g
Warranty
10 Months Myshop Warranty
Color
Black
Kingston | 32GB – Micro SD Card
Understanding speed classes
The SD card association defines card speeds using two terms: Speed Class and UHS Speed Class.
Speed class is the original rating used and the number defines the card speed; 4 for 4MB/s, 6 for 6MB/s. etc.
UHS (Ultra High Speed) uses minimum write speeds to differentiate the cards; UHS-I Speed Class 1 has a minimum write speed of 10MB/s while UHS-I Speed Class 3 has a minimum write speed of 30MB/s.
What the logos mean
It's easy to select a card that matches the interface and speed class required by the host device, such as a camera or camcorder.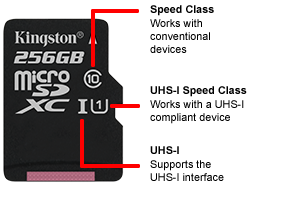 Write-Protection Switch
Kingston's microSDHC cards can be used as full-size SDHC cards when used with the included adapter. A mechanical protection switch on the adapter prevents accidental erase or over-writing of your contents stored on the card.
MicroSDHC Card
Featuring a quarter size of the standard SD card, the Kingston microSDHC card offers generous capacity to meet your growing needs of storing more media contents on today's mobile devices.
Kingston | 32GB – Micro SD Card